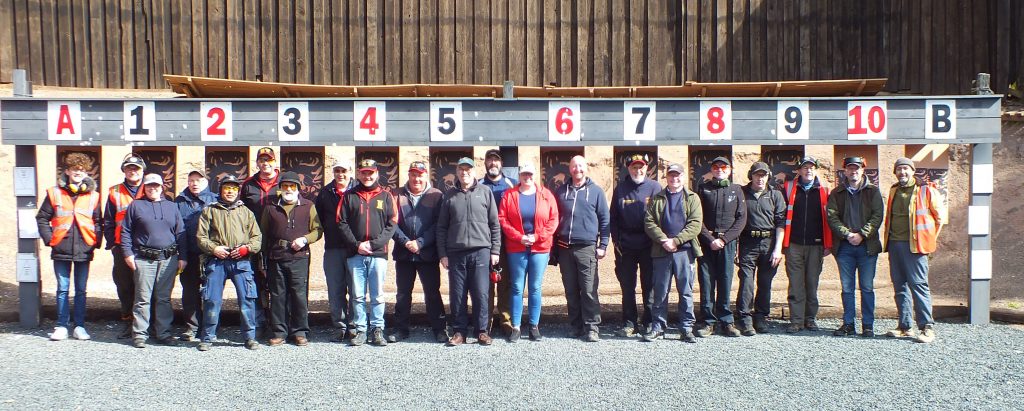 JSPC hosted our first Open Competition weekend of 2022, and allowed shooters to brush off some cobwebs following the Covid 19 pandemic restrictions.
It was very rewarding to see many happy faces, especially with England producing a team which allowed us to have a "National Friendly" against the "auld enemy".
Cold weather meant we had to keep the winter woollies on, but we had sunshine and without any showers (though a short flurry of snow flakes did remind us that we were lucky).
Results were delayed as Doug Green was massively let down by his laptop, and was unable to enter scores into the system. Lots of hard work during the week allowed the results to be finalised.
No challenges were received so these are the final results.
Two very important victories for Scotland, winning both Rifle and Pistol aggregates but we did have a small advantage in being able to select teams of five (best four to count) whereas England were limited by the five squad members (plus Doug) who attended (despite their incredible performances)

I would like to convey our very heartfelt thanks to all of our members who gave a lot of their time and much effort to make this weekend happen, and to all the competitors who travelled to be with us.
A few months ago, we sadly lost BILL VAUGHAN; a long time JSPC member, Open Competitions organiser and Chief Range Officer. I am sure most of you will remember him and for his endurance over the weekends.
It was no mean feat! Doug Green and Angie Forster in stats, Colin Oswald on the timer, Phil Johnston as Chief Range Officer (with some assistance from Greg Rastall), Dave Nicoll who got "volunteered" to the squadding job, Stuart Russell, Bill Pow, Robert J and Lea Cooper.
As usual, I present you with my usual collection of photographs taken over the weekend. Some may comment that every picture tells the same story, but I do hope that most of you will happily paw through and perhaps enjoy an interesting or even humorous photo.