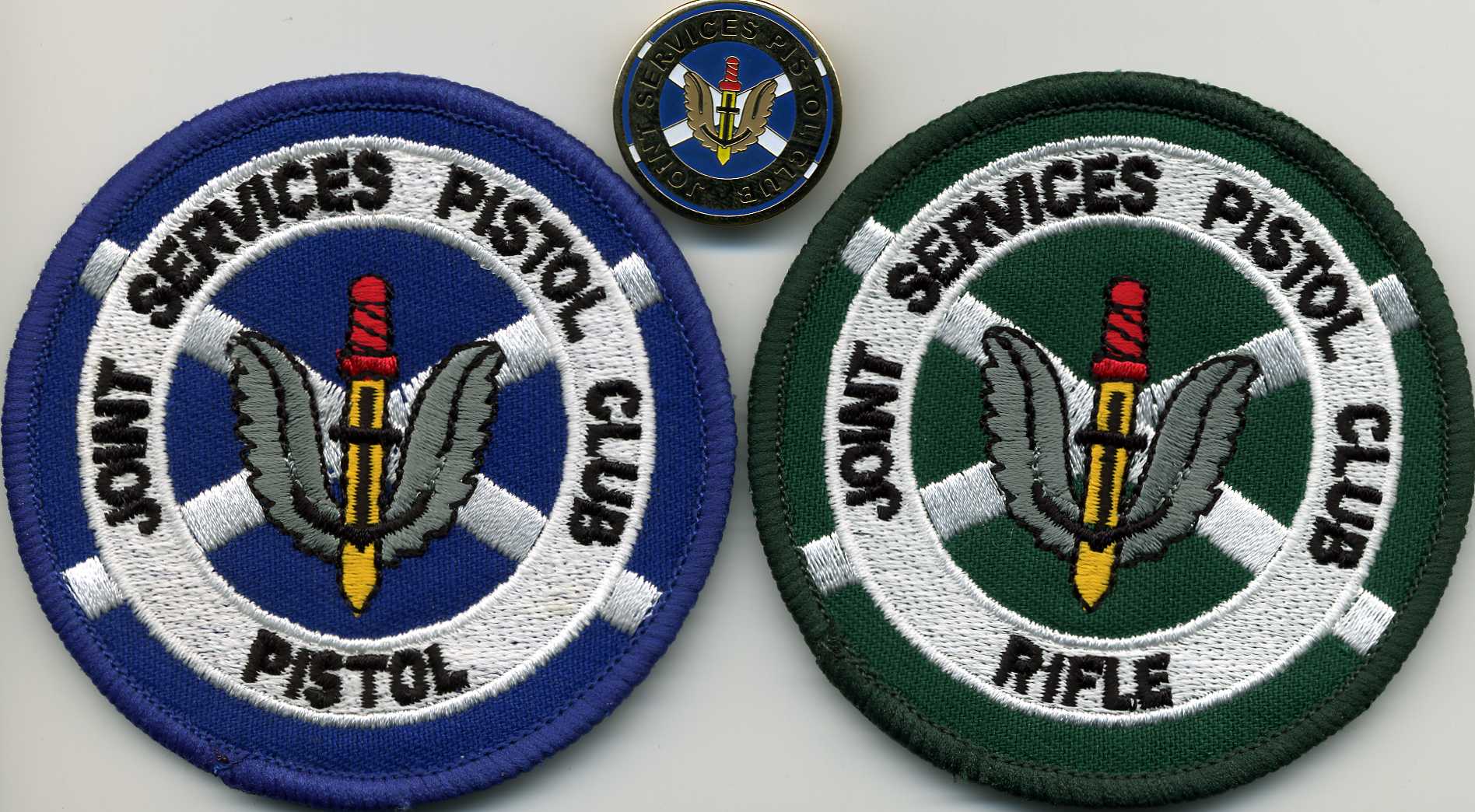 JSPC badges for sale
CLUB ITEMS FOR SALE
CLOTH EMBROIDED BADGES  (choice of BLUE "pistol" or GREEN "Rifle") £3.50 EACH
METAL CLUB BADGE with pin    £3.50 EACH
Available from the Treasurer.
JSPC AMMUNITION PRICE LIST: Please check updated prices at the range!

Supplies available from the Secretary; advance notice may be required.
CENTREFIRE ammunition is not stocked. If you are using a gun owned by another member, it is only sensible and fair that you should reimburse that member for the cost of making their ammunition.
05.2017 At Bisley, 357 factory ammunition was on sale at £43/100.
Reloading is estimated at £25/100, and this is a guideline on what probationers should be expected to pay to use a member's ammunition.
| | | | | |
| --- | --- | --- | --- | --- |
| 22 ammunition | Per 50 | Per 100 | Per 500 | Per 1000 |
| CCI STANDARD | | | | |
| PRIMERS | | | | |
| Federal Small Pistol |        X | | | |
| Federal large pistol |        X | | | |
| CCI limited stock | | | | |
Due to changing prices from suppliers, JSPC prices may alter at any time.

PLEASE CHECK AT THE RANGE.

ALL Payments MUST be made at time of purchase
and sales recorded on your FAC if you are taking supplies away from the range.
——————————————————————————————————————–
Payment with order please. We cannot accept IOU's.
Bullets made by Vic B in 357 calibre Truncated Cone are also available from Colin at the range.

A bargain at £20.00/500. Limited stock.

———————————————————————————————————————–

JSPC CLUB SWEATSHIRTS
These are available for purchase by Full members only.

Embroided with club badge, your name (and whatever else you may require, like NRA grid number).
These are available only in the club colour of navy blue,  CASH ONLY, paid in advance.
Prices start at £12.50 for the Premium Sweatshirt (round neck)
and from £20.00 for the Half Zip Sweat Shirt.
new****(November 2012) Navy Blue short sleeved POLO SHIRTS with buttoned collar. Suitable for warmer days or formal events(?)
£12.00 EACH including club badge. £2.00 extra for your name as before.

JSPC caps are now priced at £10.50 which includes the club badge.(05.2014)
Your name can be embroidered on the back of the cap for an additional £2.00
Please contact Leslie or Colin.
Please note that correct information MUST be given (with cash) with your order. SIZE, NAME AS APPEARS, GRID NUMBER.
LATEST NEWS:  JSPC caps and Beanies with embroidered club badge, and your name if desired.
The price for either is £8.00 each.

Please contact Leslie if interested.
Please CASH with all orders as all items have to be paid for upfront.