Jubilant Gallery Rifle Squad members celebrated their first Bisley win since we first competed in 2008.
Scotland Manager Colin Oswald and Team Captain Robert J Tonner accepted the Shield Trophy and raised it to demonstrate our victory.
The teams chosen provided a formidable front despite the absence of key members like Greg Rastall:
Small Bore
Norman Veitch

Jon Cormie

Robert J Tonner

Charles Bestwick

Stuart Russell

Scott Lyon ( Reserve )
Centre Fire
Chris Douglas

Glenn Gordon

Graeme Dodds

Robert Tonner snr

Bill Pow

Leslie Kong ( Reserve )
Full results will follow when released by the NRA.
There was icing to put on top of that cake, as put by Colin:
"To add some glitter they also won the Pistol Championship !!! "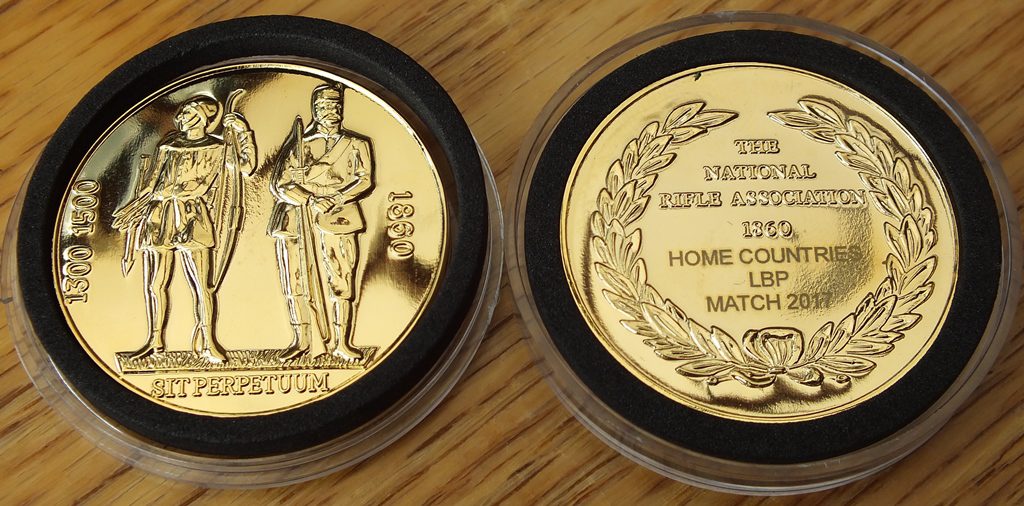 Scotland selections for the Long Barrelled Pistol:
Glenn Gordon
Jon Cormie
Robert J Tonner ( 2330 )
Robert Tonner ( 2329 )
Leslie Kong
Unfortunately, that there was to be no Long Barrelled revolver team this year.
There was a shadow of doubt over the event when it was announced that neither England nor Wales were able to field the required complement of five shooters for each team. However Scotland Captain Robert J Tonner stood firm and a compromise was organised in the stats office to produce a fair and meaningful result.
In addition to that main event, JSPC members brought home an impressive haul of medals and trophies. Chris Douglas and Norman Veitch both won many of the Championship events, and others such as Robert Tonner (Senior), Robert J Tonner, Stuart Russell, Bill Pow and Doug Green won Gold Medals in their classes.
As the Prize Ceremony only announced first place winners, we have had to wait for the results to be published when Colin will take stock and we will bring you up to date.
Preliminary Results have now been published:
Meanwhile here are some photos (with some help from Gerry and Lara).
And here are some faces you should all recognise: