Photo shows the winners of the Championship.
From left to right: Robert Tonner (senior), RobertJ Tonner, Chris Douglas, Norman Veitch, Greg Rastall
Chris Douglas took the Championship Trophies for both Rifle and Pistol,  the first time one person has won both!
Aberdeen hosted part two of theScottish Championship with competitions in 1500 and 25 metre Precision for Gallery Rifle Centre Fire (GRCF) and Smallbore (GRSB).
First on the menu though was the tie break between Jonny Cormie and Chris Douglas who created a tie in the 1020 GRSB match at Colmsliehill. The decider was match 4 of the 1020 which Chris won by one point. Well done Chris, yet another show of great shooting!
Another win for Chris, adding to his collosal medal collection for the championship.
Only 15 competitors attended for the full event at Aberdeen, so it was held on the Sunday with the ROs shooting on the Saturday.
The rain did keep away, but there was a constant and variable breeze as is normal for Drums range.
Here is a report from Greg Rastall:
2017 Scottish Gallery Rifle and Pistol Championship
The Scottish Championship concluded over the weekend at the Drums range in Aberdeen, hosted by Aberdeen Full Bore Gun Club. This was the second leg of the Championship, Joint Services Pistol Club having hosted the first leg (shorts) in July. The Drums range is renowned for offering competitors challenging breezy conditions, and it did not disappoint , much to the frustration of many and the amusement of a few, the few being Aberdeen club members who have developed an ability to shoot as if positioned on the back of a boat in a heavy seas.
Congratulations go to Chris Douglas, who not only won the Rifle Championship, Chris also won the Pistol Championship. This is the first time a competitor has won been awarded Scottish Champion title for both disciplines. This is particularly a great achievement, as Chris has only competed in Gallery rifle and pistol competitions for a relativity short period of time.
We are already mulling over the Scottish Championship for 2018 with a view to making it attractive to shooters that have not entered to date and may require to travel some distance. We will try and put out dates along with the matches over the next few months.

Regards
Greg Rastall    
Here are the results of the championship as a pdf:
2017 07 SGRC Open Prize List FINAL
The aggregates are now included here, the trophies awarded as is the custom at the National Championships at Bisley.      
Thanks to Bill Blackwood for his photographs added to some of mine to give you a taste of the Aberdeen weekend.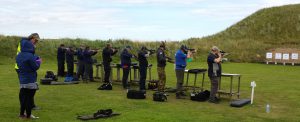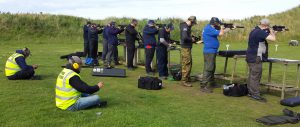 Many thanks to Aberdeen Full Bore Gun Club, Greg, Glenn, Lara and Charles for their hospitality.