Spring weather graced us for the day and we had a willing band of helpers to tackle the various jobs required on the range.
Not everything was completed but here are some of the achievements.
Robert Tonner managed to clear the area at the back of the clubhouse and create some prime area for a picnic in a sunny spot away from the wind.
Leslie painted the 25 metre (and all lines) so when the firing point is moved back thanks to the wheels made up by Colin, Phoenix A can be shot kneeling and sitting from the correct distance. (Now all Greg has to do is repeat his maximum score to produce a British Record.)
RJT and team cleared the area at the battery box and John P and others built some shelter where targets/patches/staplers can be stored during shooting. Please remember to return these items to the shed at the end of the day!
Rab E busied himself landscaping the roadside and incinerator areas.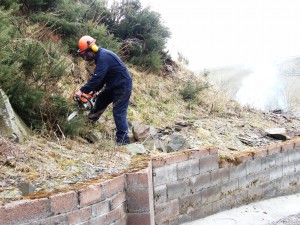 Malcolm did many trips to the dump to get rid of rubbish which unfortunately included the kitchen units which suffered badly being stored outside.
Robert T and Paul E worked (not tirelessly) on the drains
and roofing but much more needs to be done here.
Robin B and son shifted some more of the fallen cliff face but had to leave before they could enjoy the bacon rolls and pies supplied by faithful Tam.
Joey and son put their hands to many tasks.
New target boards have been made for the JSPC Open in a few weeks time and I am very pleased to say that the range is impressive by ANY standards
A BIG thank you to all those attending today and my apologies if I have not mentioned you by name.